SEARCH Luxury Hotels in & near Dubai United Arab Emirates UAE
Why so many luxury hotels in Dubai?
Dubai has oil & gas money to invest in Dubai's hotel industry future.
With fuel being a major airlines cost, it's logical to use cheap fuel at source from the Gulf, hence the success of Emirate Airlines, Etihad and Qatar Airways.
Dubai is an airline stop-over between Asia, Australia, Europe, Africa and emerging rich oil states south of Russia. Dubai airport is a destination for many airlines.
Dubai hotel pool side or near a Dubai beach is a nice warm place to escape European winters and Australian/NZ winters.
Prize money is attracting high class sporting events and other Dubai events. Top sports professionals like the comfort and service of luxury hotels Dubai style.
Arabic culture mixed with cultures world wide give tolerant modern Dubai an edge over the austere form of Islamic Wahabism, which is influential in places like Saudi Arabia. Yes you can buy a beer in a Dubai hotel but outside the hotel I recommend respect privacy of married Moslem women, drink and dress code of UAE's Islamic religion.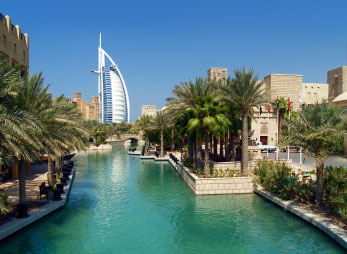 Business Travel Conference Venue
Luxury hotels in Dubai attract a business travellers to the growing number of conference venues in Dubai hotels and near Dubai hotels. Incentive travel to Dubai hotels is increasing as more business travellers discover the benefits of meeting business delegates mid way in the Middle East. No longer are business executives expected to travel to Europe. Compromise is the new order.
What is the best area of Dubai to stay in?
Because of the VERY hot and humid climate of Dubai, the best areas to stay in are at hotels near the beach. A Dubai beachfront hotel with a swimming pool is good holiday accommodation for families which include members who don't like the beach. Jumeirah Beach hotels are popular and at the centre of the 24 km Dubai beach strip that runs from Palm Jumeirah in the southwest to North Beach.
Family Holiday Accommodation Hotel Dubai
Many luxury hotels in Dubai, are out of reach of families looking for cheap hotels in Dubai however the top of this web page search box or searching Google maps might show you hotel locations with Dubail hotel prices . online Dubai hotel booking reservations service to search, find, compare prices and star ratings of Dubai holiday hotels near Dubai beaches or hotels near Abu Dhabi or hotels near Sharja in other locations of the UAE.
Is it legal to stay in a Dubai hotel with a girlfriend or boyfriend?
Sharia law (religious law) forms a part of Islamic tradition, the basis of law in Dubai. It is illegal for an unmarried couple to stay in a Dubai hotel together. Islamic law of Dubai forbids unmarried couples from sexual activity outside of marriage. You might want to bring your marraige certificate or a good copy in your Google Drive/One Drive when you stay at Dubai hotels.
2023 Holiday Hotel Accommodation Dubai
While there are many luxurious hotels in Dubai there are cheap hotels in Dubai catering for discount family holidays from £66 per room night with great Dubai hotel service. The army of expatriate hotel workers from Asia make for fully serviceed hotel apartments in Dubai. Not only will you discover Arabian culture but that of many Asian countries such as India, Pakistan and the Philippines. Asian restaurants are near most hotels in Dubai. Arabian desert tours to tent camps near an oasis can be arranged by your hotel in Dubai.
A benefit in staying at a hotel in Dubai is it's easy to remember the hotel manager's first name which is likely "Mohammed" and so too is that of his hotel staff and most males in Dubai are named Mohammed. Ref: Culture.
The Burj Khalifa is one of the tallest building in Dubai and the tallest building in the world. See it in videos of hotels in Dubai.